Solvejg Strømberg Gyldenløv now permanently employed at MGMT
Solvejg Strømberg Gyldenløv joins the MGMT secretariat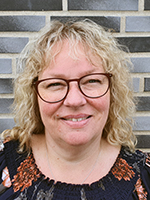 Since this summer, Solvejg Strømberg Gyldenløv has been working at the department secretariat via the AU scheme for job rotation. It has been a great success, and we are very pleased to announce that it is possible for us to keep Solvejg on at the department.

During the last months, the administrative tasks connected to income-generating activities have moved from Communication and External Relations to MGMT, and it has proven to be of great significance that Solvejg has experience in this area. Furthermore, Solvejg has worked with graduations, conferences etc. and Solvejg also comes with knowledge of the financial procedures at AU, all of which are of value to the department.

We are happy to welcome Solvejg as a permanent member of MGMT staff.