Five new assistant professors at MGMT
We are very pleased to announce that Anne-Christine Rosfeldt Lorentzen, Jim Høgh Lozinski, Brandi Shaw Morris, Darius-Aurel Frank and Christian Truelsen Elbæk are taking up new positions as assistant professors at the department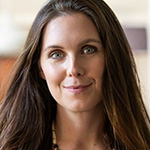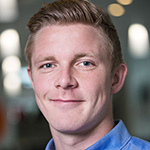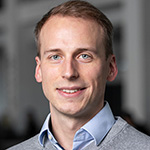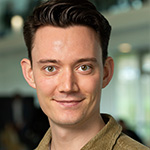 Anne-Christine Rosfeldt Lorentzen is in her research delving into the complex and ever-evolving field of digital transformation. Anne-Christine is particularly interested in understanding how organisational members can enable the emergence of digital mindsets and a digital readiness culture. Since 2022, she has been exploring the concept of sustainable digital leadership and stakeholder engagement in relation to new digital technologies as a part of the larger cross-disciplinary Innovation Fund-project called PhaseV. Anne-Christine is affiliated with The ITIM section.
Jim Høgh Lozinski works on solving collaboration issues in interorganisational relationships (B2B). In the past years, he has focused on how to organise buyer-supplier innovation, and how companies establish strong relationships prior to and during long-term collaborations. He is looking forward to continuing similar research within the Marketing section, where he will work on an AUFF Nova project, investigating new online methods for selling complex solutions in early-stage markets (PtX). Furthermore, he will contribute to a project headed by Lars Esbjerg, exploring how the value of products from rural areas in Africa can be enhanced as they are refined and sold in Western countries. Jim is working actively to position MGMT as the go-to-partner within the PtX industry, as the industry moves into the exploitation stage, where market adoption, upscaling and new business models are in focus.
In her interdisciplinary research, Brandi Shaw Morris is working to understand the psychological and neurobiological mechanisms underlying effective risk communication, including emotion, values, identity, and narrative structure. Thanks to a DFF grant, she is continuing her investigation of how people decide who to trust as sources of reliable information in the face of threats and uncertainty. Brandi is a part of the Marketing section but she is also looking forward to collaborating with colleagues in other parts of the department to explore how these mechanisms influence various types of stakeholder relationships and communication, including leaders, managers, and their organisations.
Darius-Aurel Frank is involved in initiatives such as the Danish Innovation Index (Alliance) and the Virtual Reality (VR) Retail Lab. His research focuses on life with technology in the future, and in particular, consumer behaviour related to adoption and use of technologies including artificial intelligence, service robots and the metaverse. Darius-Aurel's contributions to the field of marketing have been widely recognised, with his work being presented at esteemed conferences such as ACR, EMAC, and ANZMAC, and featured in journals such as Nature Human Behavior, Scientific Reports, Technological Forecasting & Social Change, Journal of Consumer Behavior and Psychology & Marketing. Darius-Aurel is affiliated with the Marketing section.
In his research, Christian Truelsen Elbæk has explored how experiences of resource scarcity and economic inequality influence judgement and decision-making behaviours across domains such as economic behaviour, health decision-making, and moral and ethical behaviour. He also has a broad interest in understanding seemingly irrational behaviour in organisations and exploring ways to promote positive change - especially in regards to grand issues such as poverty and sustainability. Christian is a productive researcher who has already published his research in journals such as Journal of Experimental Social Psychology, Journal of Behavioral and Experimental Economics, Acta Psychologica and Nature Communications. Christian is additionally highly engaged in large-scale research collaborations known as "ManyLabs", where researchers from across the world pool resources to investigate fundamental research questions across societies. Christian will be connected to the OSA section.

Congratulations to all our new assistant professors!